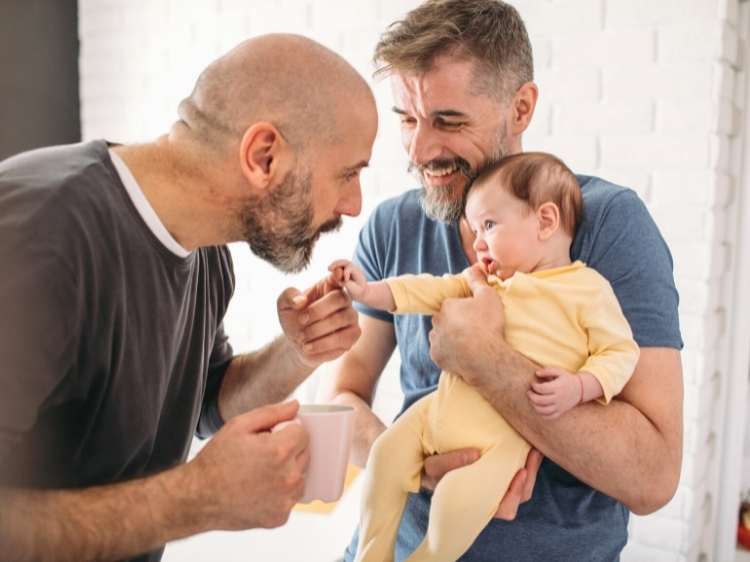 Becoming a parent doesn't begin when you're introducing your bundle of joy to their new home. Nor does it begin with middle of the night feedings and diaper changes. Becoming a parent begins when you make the decision, as a couple, to grow your love and bring a new life into your family. With the advancement of technology and our legal system, gay couples are able to share a genetic connection with their children via IVF and gestational surrogacy.
First steps to parenthood
Now, it may not feel like it, but you've already taken the first steps to becoming a parent by learning about the surrogacy process for gay couples, and scheduling a consultation with one of our Giving Tree Surrogacy team. It's also important to know that in addition to surrogacy, you will need to work with an IVF physician on your path to parenthood. Gestational surrogacy is a complex process, which requires the guidance and coordination of an experienced surrogacy agency to ensure each stage of the journey goes smoothly and all legal requirements have been met.
If you haven't had a chance to speak with one of our GIving Tree team, schedule your consultation now.
There are hundreds of IVF clinics in the United States, which might leave you asking, "how do I know which one is the best for us?" We've taken a bit of the guesswork out of your decision with our four tips to consider when choosing an IVF clinic and some questions to ask before you make your choice.
1. Experience working with the gay community
It's relatively easy to tell if an IVF clinic is LGBTQ+ friendly by browsing their website for photos of gay couples or even an LGBTQ+ section; however, their experience working with gay families isn't always as readily obvious. The surrogacy process is relatively the same for all couples, but there are still nuanced differences that require a bit more care when it comes to the gay community.
Is the IVF clinic educating you about your options for creating embryos and whose genetic material will be used to create them?
Is the IVF clinic guiding you with suggestions on how you and your husband can bond, and even nest, during the many stages of your surrogacy journey?
2. Communication style
Your journey to parenthood will be filled with many exciting benchmarks that will require careful coordination. Your communication with the IVF clinic you choose should not begin and end when you pay your IVF fees. The IVF clinic should be working with your surrogacy agency to update you on doctor appointments and the health of your baby. While questions should always be welcomed, you should never feel you have to chase an IVF clinic for answers.
Has this IVF clinic and reproductive endocrinologist been excited about answering my questions and educating me even if I haven't signed a retainer or made my first payment?
Who will be my main point of contact during egg retrieval and embryo transfer?
3) Success rate
Many factors go into what distinguish great IVF clinics from just good ones. One thing to consider is a clinic's success rate for its surrogacy and egg donation cases. Each IVF clinic has its specialty and you'll want to be sure to choose one that not only has experience with the gay community, but also experience working with gestational surrogacy.
How many gestational surrogacy cycles did you complete last year?
How many of your gestational surrogacy cycles resulted in the delivery of a healthy baby?
Do you do dual embryo transfers (DET) or only single embryo transfers (SET)?
4) Take your time
The road to fatherhood is extremely exciting, but there's no rush. Becoming a parent will change your life in ways unimagined and IVF, together with egg donation and surrogacy, is a sizable financial commitment. Most IVF clinics have experienced teams who have worked with the LGBT community. They all understand your excitement and should help you come up with a reasonable timeline to meet your parenting dreams. And if nothing else, they will remind you to take your time!
Are you ready to take the next step in parenthood? Schedule your consultation with Giving Tree Surrogacy & Egg Donation. If you still need more information, visit our Surrogacy for LGBT Families pages and let us help you on your journey to parenthood!