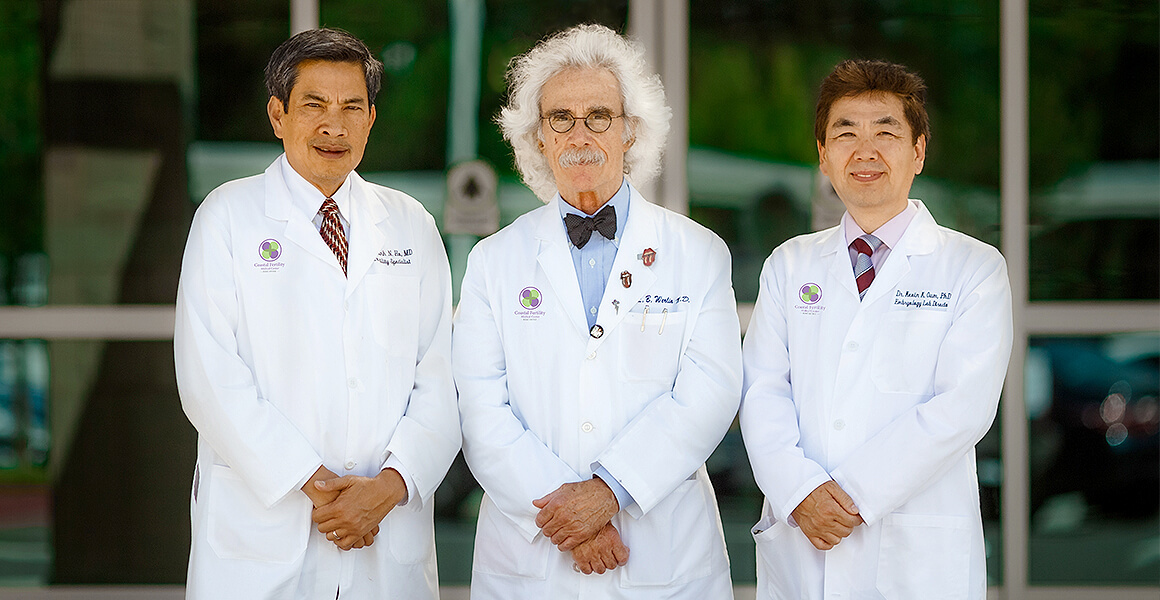 Practice Overview
Coastal Fertility Medical Center provides the highest quality of reproductive care to individuals and couples, with maximum attention placed on individualized, compassionate patient care. Founded in 1982, Coastal Fertility Medical Center has been a guiding light to families in Orange County and around Southern California. Today, Coastal Fertility Medical Center is a world-class fertility center committed to removing the barriers that stand in the way of you creating the family of your dreams.
We realize embarking on the journey to parenthood can be both exciting and intimidating. One of the most crucial decisions you will need to make is selecting the fertility partner you entrust to support you in achieving your dream. To remove this crucial first step's financial barriers, we offer all new patients a complimentary consultation and fertility evaluation. This free consultation allows you to gain a valuable assessment of your current fertility status, explore the fertility options available to you, and provides an intimate opportunity to have all of your questions answered.
Our patients love that they have the guided support of their physician, guiding them through every step of the process, from creating individualized treatment protocols to performing all ultrasounds and procedures. The individualized care extends to our on-site IVF lab, which nurtures every egg and embryo individually to optimize your chances of success. While you will enjoy the focused care provided by your treating physician, you will also benefit from the valuable insight and over 100 years of combined experience of our medical team's weekly case collaboration.
For patients that are just beginning the journey, we strive to support you with education, basic and complex infertility testing, and affordable frontline treatments, such as ovulation induction and intrauterine inseminations (IUI's).
If you require more advanced reproductive technologies, such as IVF, ICSI, Blastocyst Transfer, Preimplantation Genetic Testing (PGT-A and PGT-M), our compassionate and dedicated staff are well known for their special attention and individualized approach to the needs of each of our patients. For our patients requiring 3rd party reproduction services, we partner with the leading providers of gestational surrogacy and donor eggs. We welcome the most complex and challenging cases, holding a steadfast commitment to our philosophy of not turning any patient away.
Whatever your starting place, you can be confident that Coastal Fertility Medical Center has the years of experience, the compassionate commitment, and a history of success you can depend on to support you in realizing your dreams of having a baby.
For nearly 40 years, we have remained true to our philosophy of providing cutting-edge medical care in an environment that supports each person individually. Our medical team is comprised of passionate pioneers in this field with extensive experience, allowing us to identify and triumph over even the most complex infertility issues. Working together, our team of physicians, full-time laboratory director, embryology team, nurses, and staff look forward to showing you what makes us different.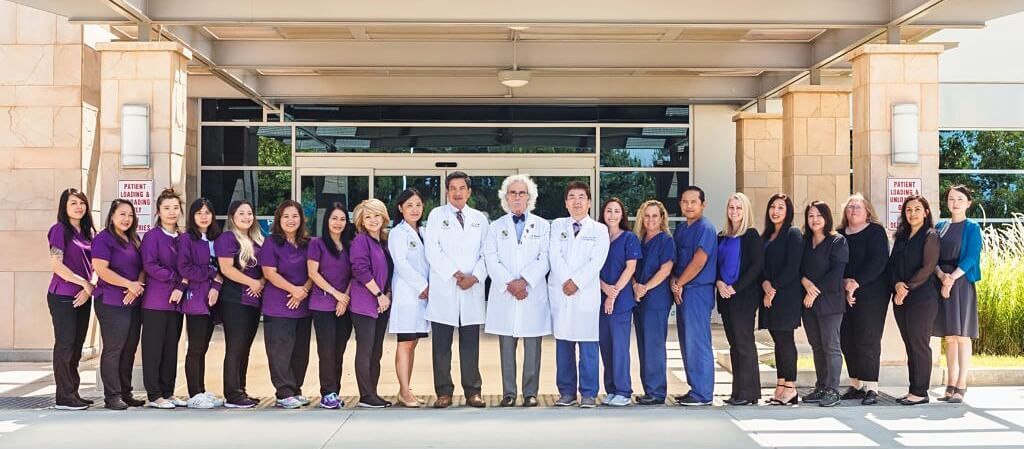 Why Choose Coastal Fertility Medical Center?
Free Consultation and Fertility Evalution
Individualized Care and Customized Protocols
Transparent Costs
Direct REI Oversight
On-Site Laboratory Nutures Each Egg and Embryo Individually
Personalized Support
Transparent Costs
Best Price Gurantee
If you receive a better pricing quote from another local fertility clinic for the same treatment plan, we will happily match the price.
Services & Treatments
Infertility Evaluation, Testing, and Diagnosis
Fertility Preservation
Egg Freezing
Embryo Freezing
Oncofertility
General Infertility Treatments
Artificial Insemination (AI)
Intrauterine Insemination (IUI)
Tubal Reversal: Microscopic Tubal Reconstructive Surgery
Ovarian Stimulation, Advanced Laparoscopic Surgery
Advanced Hysteroscopic Surgery
Assisted Reproductive Technologies (ART)
IVF – In Vitro Fertilization
ICSI
Blastocyst Embryo Transfer
Preimplantation Genetic Testing (PGT-A and PGT-M – widely known as PGS & PGD)
Gamete Intra-Fallope Transfer (GIFT)
Zygote Intra-Fallope Transfer (ZIFT)
Egg Donation
Surrogacy
LGBTQ+ Family Building Options
Lesbian Family Building Options
IUI & IVF with donor sperm
Reciprocal IVF (CO-IVF)
Gay Family Building Options
Donor Eggs
Gestational Surrogacy
Transgender Family building Options
Transgender Women (M to F)
Sperm Banking
IUI and IVF for those partnered with a cisgender woman
Donor Eggs & Gestational Surrogacy for those partnered with a cisgender man.
Transgender Men (F to M)
Hormone Testing
Egg Freezing
IUI and IVF for single patients or Reciprocal IVF for those partnered with a cisgender woman
Reciprocal IVF for those partnered with a cisgender man
Gestational Surrogacy
Conditions Treated
Female Factor Infertility
Premature Ovarian Failure
Endometriosis
Polycystic Ovarian Syndrome (PCO, PCOS, PCOD)
Pelvic Inflammatory Disease and Sexually Transmitted Diseases
Ovulation and Hormonal Disorders
Fibroid Tumors
Advanced Maternal Age
Male Factor Infertility
Sperm Disorders
Endocrine Disorders
Genetic Diseases
Anatomical Abnormalities
Defective Sperm Delivery
Expert Medical Team
Reproductive Endocrinologist and Medical Director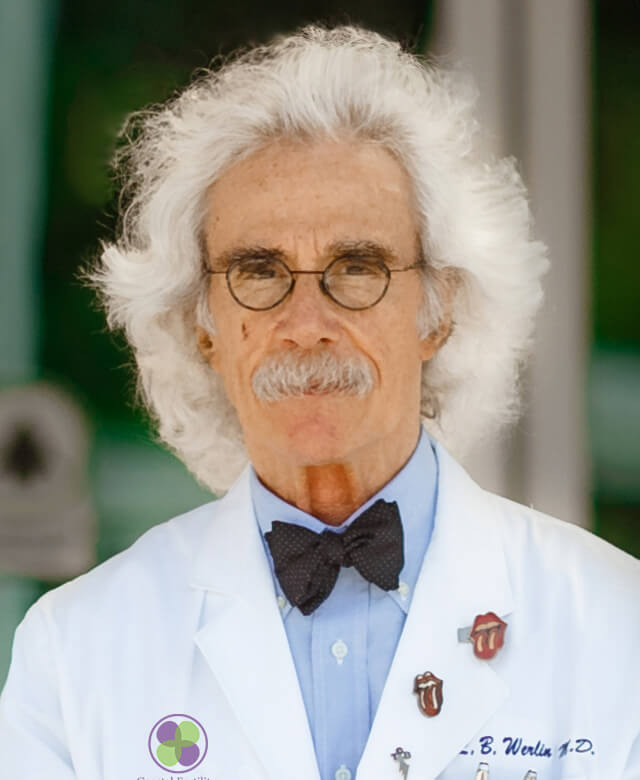 Dr. Lawrence B. Werlin, a nationally recognized specialist in Reproductive Endocrinology & Infertility (REI), has been practicing in Orange County since 1982, is the founder and Medical Director of Coastal Fertility Medical Center.
Dr. Werlin was the coveted National Fellowship recipient in Reproductive Medicine at the revered National Institute of Health (NIH). He has served as a Professor of REI at the University of California, Irvine (UCI) since 1982 and as the Founder & Director of the Hoag Memorial Hospital Fertility Services. Dr. Werlin, a pioneer in the use of Preimplantation Genetic Diagnosis (PGD) in Southern California, is an esteemed expert in its utlization. As the principal investigator of three major PGD studies, he forged the way for the future of reproductive medicine. Among Dr. Werlin's many accomplishments, he also served as Chairman of the Society for Assisted Reproductive Technologies validation committee for nearly a decade.
Besides his extensive expertise and impressive background, Dr. Werlin, better known as "The Werl" to his patients, is best known for his compassion and the special attention he pays to provide individualized, compassionate care to his patients.
Dr. Werlins recognitions include being listed as one of Orange Coast Magazine's Top Doctors of Orange County (1996 to 2020), selected as Best Doctor in America, 1996 through 2016. Dr. Werlin has been highlighted as Los Angeles Magazine's Southern California Super Doctor for his specialty in Reproductive Endocrinology and Infertility (from 2008 through 2020) and chosen as one of America's Top Obstetricians & Gynecologists from 2002 through 2014. He was also the recipient of the Patients' Choice Award (2008 - 2014); is consistently featured in Who's Who & Medicine and Healthcare (2002-present), and was most recently voted "Most Compassionate Doctor in America" year-over-year. Most notably, he received the 2014 Star Award for Scientific Research Presentations by the American Society for Reproductive Medicine (ASRM).
Dr. Werlin is a member of the American Society of Reproductive Medicine (ASRM), The Society of Assisted Reproductive Technology (SART), Pacific Coast Reproductive Society (PCRS), and serves on the Medical Advisory Board for Resolve. He has authored numerous abstracts and articles in peer-review journals and is a reviewer for the journal "Fertility & Sterility."
At Coastal Fertility Medical Center, we are all committed to providing our patients with the most innovative, creative options that are available to them. We've always strived to be at the forefront of development in our field. We pioneered the use of preimplantation genetic diagnosis to maximize the success rate of our IVF procedures and continue to lead the way in individualized fertility treatment today.
Reproductive Endocrinologist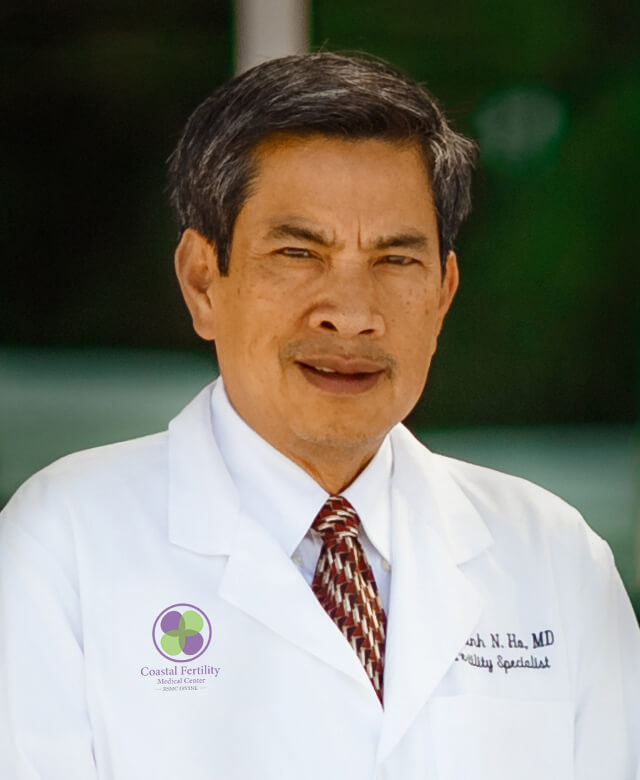 Dr. Ho is double board-certified in OB/GYN and Reproductive Endocrinology and Infertility. With over 30 years of experience, he is very proficient in treating patients of all backgrounds but specializes in helping patients with endometriosis and other immunological disorders. Dr. Ho also specializes in creating solutions for patients of advanced maternal age and low ovarian reserve. He enjoys overcoming obstacles to fulfill his patients' dreams.
"I've been nicknamed the "nicest gentlemen in the west" because I treat my patients like family. I take a very personal approach to each couple or individual I meet. No patient is alike, and neither is their treatment. With customization for every patient, attention to detail is crucial.
I want every patient to have the best quality of care, and I do everything I can to create a successful outcome.
I am not just a physician. I'm also an artist (a musician, poet, and writer). This side of me allows me to treat my patients more with my heart. I like to think it's a combination of heart, mind, and skill."
Laboratory Director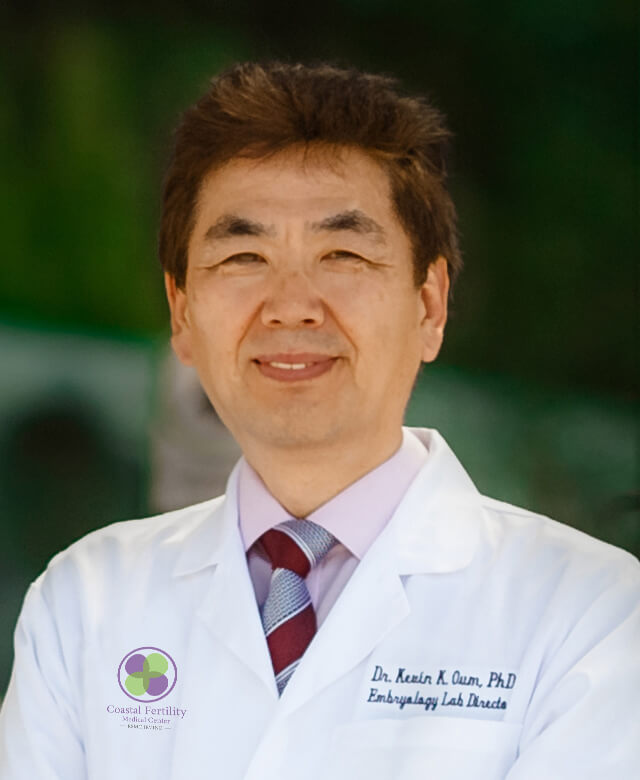 Dr. Oum is a specialist in Intracytoplasmic Sperm Injection (ICSI), Embryo Biopsy, Surgical Sperm Retrieval, and Cryopreservation. Working in some of the most highly esteemed fertility centers in Korea and the United States, Dr. Oum has been recognized by the American Society for Reproductive Medicine for his ICSI research and his success with Vitrification of Human Blastocyst Embryos. Dr. Oum is interested in genetics and new protocols in the future of IVF, such as non-invasive genetic diagnosis and continued advancements in oocyte and sperm cryopreservation.
He began his esteemed career as the Scientific Director at Columbia University's Fertility Center in New York, and today, is now the Lab Director at Coastal Fertility Medical Center.
"My commitment is to provide the most complete care for our patients, so they have the best possible chance at creating the family size they desire. We are constantly seeking ways to improve to ensure we have the world's greatest system to give our patients the best quality of care in the industry.
I strive to put patients at ease while they are here, educating them on each procedure and answering any questions they may have. My goal is to educate our patients so they can make the best decision for their own care with guidance from our medical team. On behalf of our team and laboratory, we are 100% committed to our patients and are available 24/7 to care for them according to each individual's needs, which sometimes means showing up to the lab very early in the morning (~6 am) or the middle of the night (~1 am). As highly educated professionals, we strive to be technically flawless, and prioritize accuracy, as well as compassion for each patient."
Contact
15500 Sand Canyon Avenue
Suite 100
Irvine, CA 92618
(949) 726-0600
For additional information, visit: CoastalFertility.com or Click here to schedule a complimentary consultation and fertility evaluation