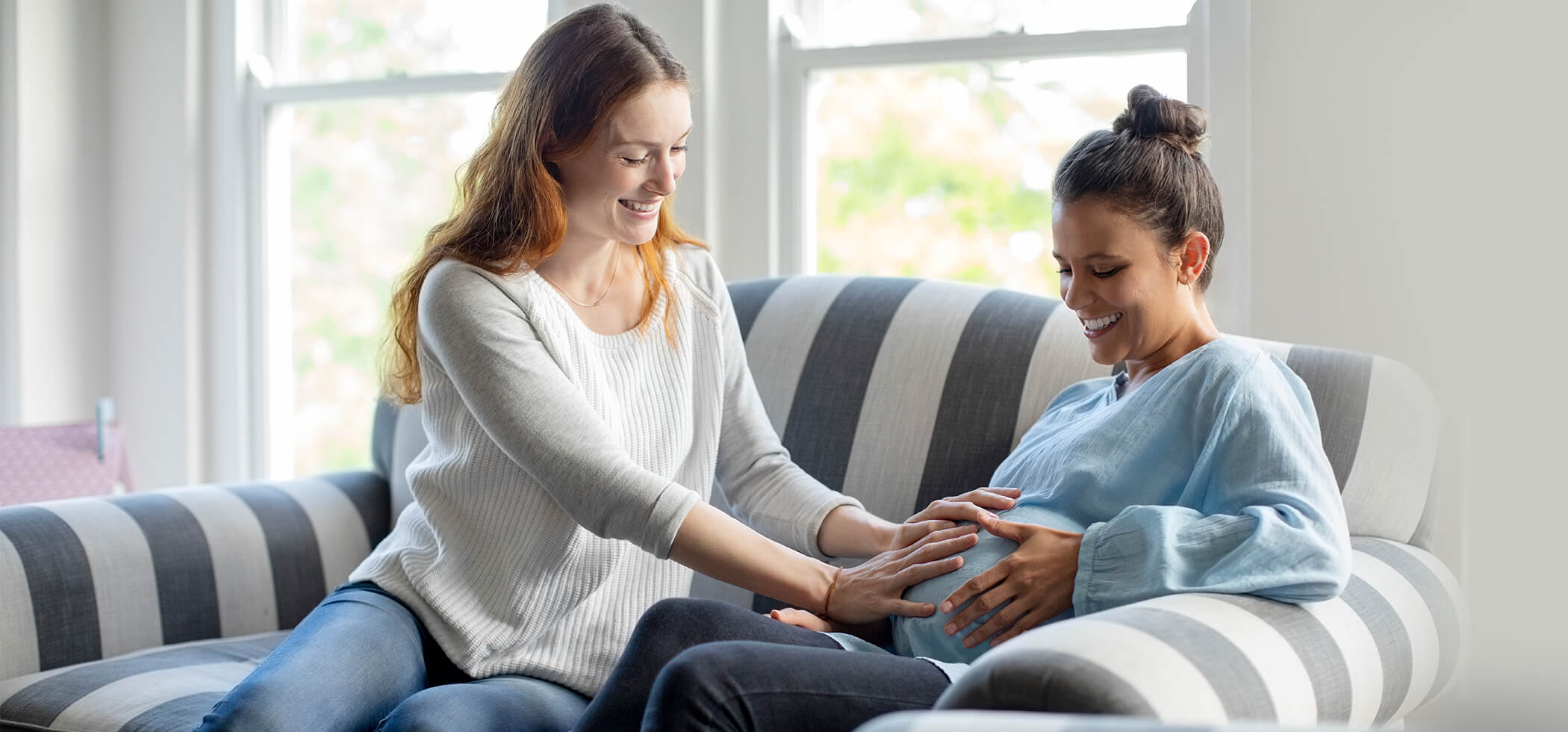 The journey to creating a family via surrogacy is full of powerful emotions, budgeting & deep financial discussions, and may include people prying into your personal life.
It can be overwhelming…especially when you first start researching agencies.
Surrogacy Agencies act as a port in the storm of potentially turbulent conversations and voluminous research.
They are typically a one-stop support system from start to finish, guiding you along your family-building journey.
Agencies are experienced with the legal side of things as well as the human side, finding the correct match, setting up screenings, and handling all medical concerns and possible complications which may arise.
But what happens when you don't even know where to start or how to find an agency for you?
With a few insider tips, you'll be able to nail down your top 3 surrogacy agencies with ease.
Choosing the best surrogacy agency for your specific family-building needs is highly important but shouldn't take years.
Wait…there are different kinds of surrogate needs?
Absolutely.
Here are our 10 favorite research methods and best practices to utilize when finding a surrogacy agency for your unique journey.
1. Less is more - narrow down your search options.
Every day we receive questions on being a surrogate mother, egg donations, IVF, and Intended Parent processes.
Within those categories are so many conversational offshoots from same-sex couples to high-powered CEOs with newfound time, Intended Parents healing from the deep personal wounds of infertility.
Our angelic surrogate mothers travel a unique path toward family-building too and love to chat about experiences with us.
We hear it all and know how overwhelming the research can be.
Trust us when we say, doing it alone is so much harder and can be way more expensive. Finding an agency that understands firsthand what you are going through is key. Similar to finding a therapist that will work with your needs.
For example: If you are seeking marriage counseling, you would not go to a therapist who deals in the world of addiction.
Surrogacy agencies niche down to ease your journey while bringing you face-to-face with your primary goals too.
2. Where are you and where are you willing to go?
Surrogacy laws vary State by State in the U.S. and there certainly are a variety of confusing laws internationally.
A great place to start your search is in your Home State or the State where you live most often.
Check out our Surrogacy Laws By State page.
Unfortunately, not all States see eye to eye on the beauty of surrogacy and egg donation. Some Intended Parents move while others find solutions near their home base.
3. Let Google help you find services with an easy formula: Needs + Physical Location or Donor Country of Origin
Ok, you don't have to use Google - but a quick search engine query will go a long way if it is worded well.
Don't worry about capitalization, proper punctuation, grammar, or being politically correct. Further down the list, you will see why we talk in a certain way about surrogacy services.
While we love to use inclusive language, search engines work best with simple phrases and words. Think about how someone asks a question in real life, then add specifics.
Simple terms with a twist of specificity go a long way to help web crawlers find the website you need to see. (yup, SEO helps us!)
A prime example would be Asian-American Egg Donors. They are in very high demand due to a limited supply of Chinese, Korean, and Japanese eggs in the United States. There are numerous reasons for this; however, let's discuss why this is a common search yet difficult to match.
If "China Eggs" or "Chinese Eggs", typical search terms, were typed into a search engine you would get tons of cookbooks and recipes back.
Better searches may include: "Korean Egg Donors", "Korean American Egg Donors", Chinese Embryo Donation", or "Japanese Egg Donation". When searching for people, and people-related services, it is important to refer to them as such.
If you are thinking to yourself, "Hey, we're talking about Surrogacy Agencies...not Egg Donors!" you are correct...but also this brings us to our next sub-tip.
Search For Specific Services Offered To Help Find Your Match
Are you looking for fresh or frozen egg cycles within a Surrogacy Agency?
Perhaps you have specific religious views and prefer a surrogate who understands your values - such as no drinking.
Even though this article is all about Surrogacy Agencies, searching for specific services agencies offer can boost your chances of finding your perfect match on the first try.
Getting dragged down the rabbit hole of search page after search page is so frustrating.
Below are some examples of search terms to get your creative query juices flowing:
LGBTQ friendly surrogacy agencies Florida (enter your state or country)
Be a surrogate mother in Ohio
Egg Donors Surrogacy for Gay and Lesbian Families in Little Rock Arkansas
Surrogate compensation packages Irvine California
Embryo donors Asian egg donor
IVF for women with fibroids over 35
Jewish egg donors and surrogate services
Mediation and counseling for surrogate-intended parent relationships
Accredited surrogacy company asrm
Fertility Centers & Surrogate Services for single men
The more specific you can get within a simple search, the better. And don't forget...spelling may count but capitalization, word order, and grammar...not so much.
Some companies have excellent SEO practices meaning you may get a few results back which are not ideal for your exact location. This is where your due diligence comes in as well as our next tip.
4. Pay close attention to the company's mission statement.
Once you find an agency site you like, read about them. And ask yourself a few questions such as:
Does the Agency support LGBTQ+ causes or do they specifically exclude certain populations like HIV-positive Intended Parents?
Are they accredited or members of any organizations for continued industry education?
Do they service my area and help with relocation if needed?
Is the staff listed on their site?
Since we're huge fans of sharing knowledge and benchmarking…below are some examples of Mission Statements to scout. We are not affiliated with them in any way or receive payment from their links below. It's the right thing to do in our industry, to share knowledge of reputable organizations.
Some Mission Statements are more comprehensive than others; however, this is the best place to start figuring out where you fit together and whether or not you have to travel to meet your family-building goals.
5. Read company reviews from Intended Parents & Surrogates on third-party review pages outside of the agency's website testimonials.
Ah, the internet, we love you. Google reviews, Facebook, Yelp…
Hey, this Yelp Review is about Giving Tree! We're in love!
"Thank all of you!!!! Words cannot describe the emotions that we feel. Each and every one of you added a very important direction on this wonderful journey. From the bottom of our hearts sincerely... THANK YOU for our beautiful babies!!!" - Joe L., Newport Coast, CA, Yelp
There are so many ways to get opinions on services nowadays. Reviews from Intended Parents who have expressed their appreciation for the agency and to whom you relate to is best.
While complaints are valid to look into…the Better Business Bureau is far superior at addressing those topics versus possible disgruntled past employees, or worse. In public reviews or discussion boards, there is the possibility that people never even set foot in the agency.
Hurtful comments and reviews may be due to biased belief systems or a personal agenda against an emotionally driven topic like egg donation and surrogacy. Or they may be valid!
The best advice we have is to go with the averages, are there an abundance of positive comments with a few poor ratings, or vice versa?
Go with your gut and follow up with a reputable agency that reviews business practices, which brings us to our next tip.
6. Become Better Business Bureau & Glassdoor Pros
Agencies and people who are on the up and up have nothing to hide. Just like doctors, lawyers, and dentists who hang their degrees in the office for you to see…
…a reputable business will have no trouble showing you their credentials too.
Giving Tree has an A+ rating, is accredited, and has no complaints.
See what the Better Business Bureau has to say about us…and any other agency you research too!
Use the handy search tool to drop in the Agency Name and see what comes up. You may be shocked at what you find from such a simple search.
Glassdoor is another tool for reputable searches and feedback.
As is American Surrogacy. Read our 5-Star testimonials there or look up other agencies you are interested in.
We're everywhere and that matters! You should be able to find the agency you are interested in online. If you can't…that is a red flag.
7. Your top agencies start to get clearer as services meet your needs.
You know what you are looking for. Intended Parents know the services they need as do surrogates and egg donors. Rarely do their paths criss-cross in that department. However, with family-building being such a sensitive topic, options can quickly become overwhelming.
Concierge services within agencies help immensely at this point in your research. No obligation conversations about what truly serves you best. Usually just a phone call away.
If you are not quite there yet, it is crucial in this step to create a list of needs vs wants.
Some examples of needs may be:
Pristine, well-cared-for facilities to feel safe in. (of course!)
Screening services of surrogates' mental and physical health…as well as their spouse if they have one.
Contracts between all parties to restrict travel during services.
Coordination of information between clinics, agencies, and doctors with disclosure of bloodwork.
Counseling services for surrogates after childbirth, ensuring mental health checks during vulnerable post-birth moments of healing.
Needs should highlight personal protection and safety while feeling loved and honored; being provided with proper nutrition, shelter, and personal care for all involved is important as well.
Everything else can fall into the category of want - such as daily foot rubs, though our surrogates highly disagree!
8. The Phone Call. Read the FAQs on sites then call the office for further clarity.
Seriously, sometimes all it takes is to pick up the phone; but, many people skip this step, waiting until they feel ready with tons of research hours behind them.
Don't hesitate to reach out to an agency. You can get a feel for the office vibe from the second they pick up the phone, not to mention how they answer your questions.
If the thought of cold-calling an office scares you, prepare by looking at Frequently Asked Questions (FAQs) on their webpage - then follow up with staff on specific questions unanswered.
At Giving Tree we take it a step further and have a specific FAQ for the different categories of clients we serve:
If you are still uncertain about whether or not you should call, don't see your needs listed, or are afraid of being put on the spot - we understand.
You can use our handy Contact Us form for due diligence and research as well, though we'd love to chat with you!
You can also find Surrogate Requirements on many sites - such as BMI regulation, age restrictions, and financial standing. In addition, you can find so much information about cost as well as Grants & Scholarships for financial assistance if needed.
Feel free to use those resources as a starting point to gather thoughts and questions on each topic for your discovery call.
9. Ask for staff's experience in the industry if it is not listed on the website.
This will show that they have a true understanding of surrogacy, not only from a technical perspective but also from a caring one. Transparency and empathy in this industry are so important, not only for the clients but agencies as well.
When searching for an agency, it can feel like shopping at times. In reality, you are searching for a mutually beneficial and dynamic relationship, building your team to embark on a deeply rewarding, extraordinary journey into parenthood.
At Giving Tree Surrogacy & Egg Donation we highly value relationship building - and it all starts with trust.
Being fully transparent about staff practices, educational backgrounds, and organizational partnerships helps everyone to build safer, more inclusive, environments primed for family-building.
If your agency does not have a Team Page, call to ask about credentials, experience levels, and who will be caring for you along your journey.
10. Licensing, the ASRM, and Agency Naming Laws
Licensing is tricky with surrogacy since it is relatively new. The American Society For Reproductive Medicine (ASRM) is one of the most well-known and respected professional organizations for continuing education, networking, and funding within the fields of reproductive medicine.
Another question we hear often refers to agency names and licensing.
If a surrogacy agency is listed as a clinic, center, or company does that mean they are not legit?
No, not necessarily. Many agencies go by different names since there is no industry standard of licensing like there is with adoption. Companies do this to ensure they represent themselves properly and it is rarely done to mislead.
Current laws are simply not caught up to provide practitioners with a regulated term within the industry.
The most important questions to ask and factors to consider are:
How long have you been in business?
How many surrogacies have they performed?
Do they hold staff to a certain professional standard for egg donation and other services? If so, what are they?
Are they registered companies? "May I see proof of your business license?"
Do they attend ASRM events or partner with fertility organizations?
These are all more than acceptable questions to ask and consider. The amount of time they have in operation and their business credentials go a long way to establishing credibility.
Giving Tree is involved with ASRM and attends their annual conference, we can't wait to tell you all about the next one in our News & Events Section.
Where Do We Go From Here?
Surrogacy and surrounding services are complex. Above all, you want to find an agency that will provide you with support and guidance every step of the way.
The 10 topics discussed are a great place to start.
We did not dive deeply into pricing, packages, and cost of surrogacy since that is a bigger topic; however, we are happy to answer any questions you may have.
With an agency, you have access to doctors, lawyers, staff, financial support, and so much more!
You do not have to go through the process alone. We're here to help.
Contact Us with your questions, or schedule a free, no-obligation exploratory consultation today. We'd love to chat with you further!
It takes a village to grow love!
The Giving Tree Surrogacy & Egg Donation blog is a space to connect and communicate with intended parents, surrogates, and egg donors.
For media inquiries, please call 888-328-8883.